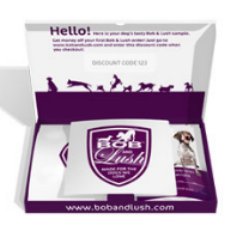 and fill out their form and Bob and Lush will put your box in the post.If you would like a puppy sample, reply to the confirmation email you receive with the word 'PUPPY'!
Their free sample boxes contain:
#
150g of Bob & Lush Premium Duck Kibble with Potatoes & Peas.
#
100g of Bob & Lush Premium Lamb Wet Food with Carrots.
#
A Bob & Lush leaflet.
#
A £5 off your first order voucher.